In Japan, it's coldest period spanning January through March.
Events on the theme of ice and snow of winter only in various regions is held.
We enjoy the harsh winter with exhibitions of snow statues and ice sculptures, and making Kamakura(Japanese igloo).
Winter in Japan
The northwesterly wind blows, about 52% of the country, mostly the Sea of Japan side and mountainous area, becomes one of the heaviest snowfall area in the world.
In contrast with that area, it is often dry and sunny weather in the Pacific Ocean side.
Average Temperature in January 2017
| | | | |
| --- | --- | --- | --- |
| | Average | High | Low |
| Sapporo | -3.9℃ | -1.1℃ | -7.0 ℃ |
| Tokyo | 5.8 ℃ | 10.8 ℃ | 1.7 ℃ |
| Osaka | 6.2 ℃ | 10.0 ℃ | 2.9 ℃ |
| Fukuoka | 7.4 ℃ | 11.5 ℃ | 4.0 ℃ |
| Naha | 18.4 ℃ | 21.0 ℃ | 16.4 ℃ |
Temperature
The minimum temperature record: -41.0℃ (-41.8℉) Kamikawa, Hokkaido 1902/1/25
The minimum temperature in 2013: -31.9℃ (-25.42℉) Nakatonbetsu, Hokkaido 2013/1/17
Snow
The deepest Snow : 1,182cm Mt.Ibuki in Shiga 1927/2/14
The heaviest daily snowfall : 230cm Mt.Ibuki in Shiga 1975/1/14
(World records both)
Drift Ice
The Sea of Okhotsk side in Hokkaido
(The southern limit of the sea water itself freezes in the northern hemisphere)
Soft Rime
Famous spots: Zao, Yamagata / Mt.Hakkoda in Aomori / Mt.Hachimantai in Akita and Iwate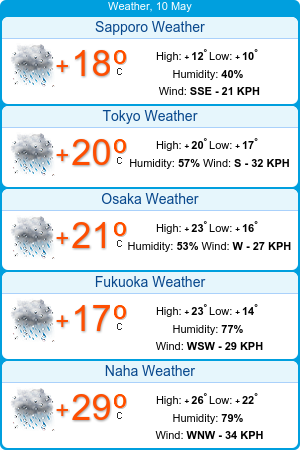 Natural landscape of winter in Japan
Time Lapse of Winter Scene (HD 720p)